Trust wide news
The Blog – Prof Joe Rafferty CBE
In his latest blog, Chief Executive Joe Rafferty CBE has written about the importance of community services both within the Trust and the health and care system. You can read it on our website.
---
Visiting arrangements across the Trust
All visitors to our sites should wear face coverings at all times, unless you are exempt under current government guidelines. Safe distance must also be maintained (at least one metre).
For our latest COVID-19 updates, visit our website.
---
Governor elections
Do you want the opportunity to influence the way your health services are run or know someone who does? Why not become one of our Governors?
Our Council of Governors has a number of statutory duties and is responsible for ensuring community views are considered when Trust decisions are made and services are developed.
Interested? Find out more on our website.
---
Student health line to close
Our Student Health Line was introduced last year to give access to same day urgent care to anyone studying on Merseyside who had a physical, sexual or mental health concern.
The health line provided a valuable service, particularly while Liverpool City Walk In Centre (based at the Beat) was closed. Since that reopened, we have noticed consistently low numbers for enquiries on the health line. There are four Walk In Centres across Liverpool, with a further three in Knowsley and one in Litherland.
A decision has been taken to remove the Student Health line from 11 February 2022. If any students call the line, they will be redirected to one of our Walk In Centres. Thank you to everyone who helped to promote the service.
If you require any further information, please speak with:
For advice or to make an appointment at our Walk In Centres, contact NHS111, or turn up between 8am to 8pm, seven days per week. We have Walk In Centres in Liverpool, Knowsley and South Sefton https://bit.ly/MC-walkin
---
Public Consultation - Service user and carer engagement strategy
As a first step in developing a comprehensive engagement strategy, we are hosting online consultation events alongside Healthwatch organisations across Cheshire and Merseyside.
The consultations will take place on the following dates:
Healthwatch St Helens - 10am to 11:30am on Thursday 10 February 2022
Healthwatch Halton - 10am to 11:30am on Tuesday 15 February 2022
Healthwatch Warrington - 10am to 11.30 am on Thursday 24 February 2022
Healthwatch Knowsley - 10am to 11:30am on Tuesday 8 March 2022
Healthwatch Liverpool - 10am to 11:30am on Thursday 17 March 2022
Healthwatch Sefton - 10am to 11:30am on Thursday 24 March 2022
For joining instructions or to find out more, visit our website.
---
Mental health
Global Centre for Research on Mental Health Inequalities
We have established the first NHS led research centre to address mental health inequalities and act as a learning hub, underpinned by research and science at organisational, local, regional, national and international levels.
Led by Professor Nusrat Husain, the Global Centre for Research on Mental Health Inequalities (GCRMHI) will bring together international academics and clinical practitioners. They will support research, learning, expertise, training, and community engagement and involvement on issues of global mental health inequalities with affected communities and individuals. More information is available on our website.
---
Mossley Hill Hospital handover
After a seven months' programme of specialist works to remove old and unsuitable buildings at Mossley Hill Hospital, Liverpool, the cleared site was formally handed back to Mersey Care.
The completion of the demolition is in anticipation of redeveloping the site for a new mental health hospital and now paves the way for enabling works to start. Site investigations and remedial works to the previously adjoining historic Mossley House will begin as part of the next phase. Read more on our website.
---
February at The Life Rooms
A timetable of activities taking place across all three Life Rooms in Liverpool and Sefton during February is now available. Topics include physical health, mental health and creative classes.
All activities are free to attend and are suitable for the public and service users so please share the link with anyone you think would benefit from attending. Details, including how to book your free place, can be found on The Life Rooms website.
---
Need help in a mental health crisis?
For anyone struggling with stress, anxiety or feeling they can't cope with day-to-day life, including thoughts of suicide, contact us on one of the freephone numbers below or visit our website.
---
Text messaging support service
Free, confidential, 24/7 text message support is available for anyone who is feeling overwhelmed or is struggling to cope.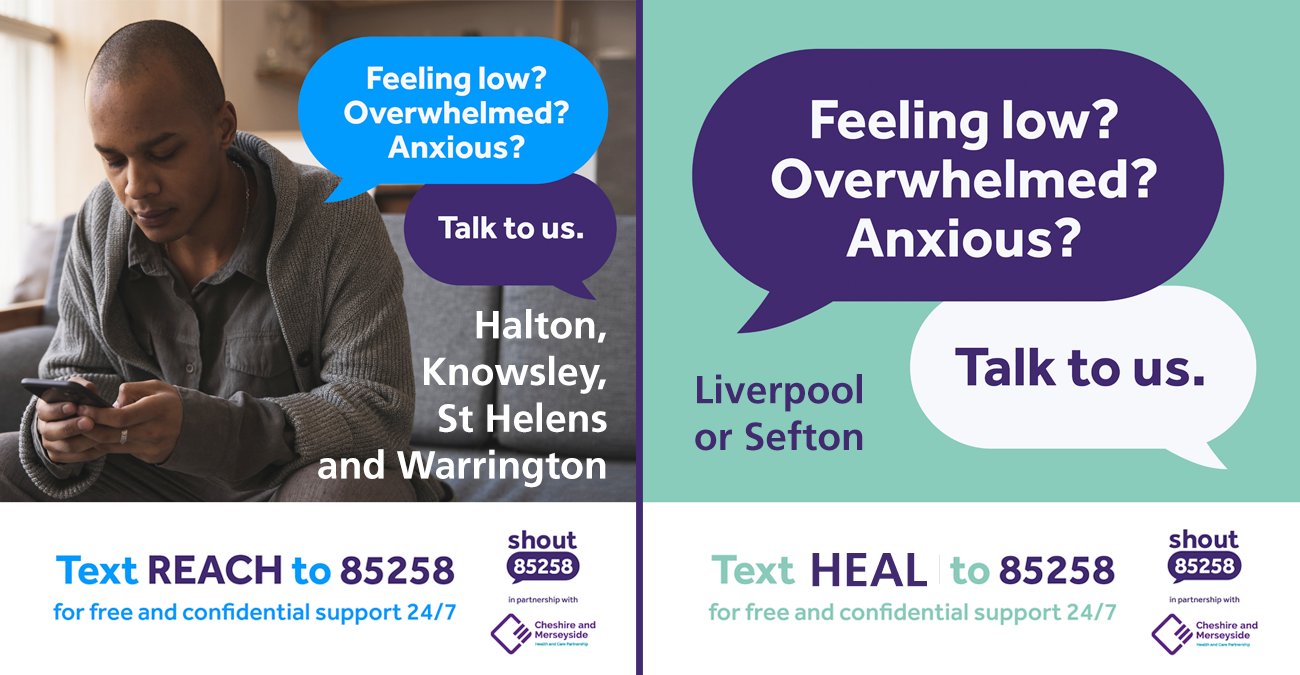 For people living in Halton, Knowsley, St Helens or Warrington, text REACH to 85258
For people living in Liverpool or Sefton, text HEAL to 85258.
---
Children's Mental Health Awareness Week
This week schools, youth groups, organisations and individuals across the UK will take part in Children's Mental Health Awareness Week. This year's theme is #GrowingTogether. Growing Together is about growing emotionally and finding ways to help each other grow.
Follow us on social media and join in:
Our Mental Health Support Teams in schools have provided their top three mental wellbeing apps for young people. These apps are all free and are endorsed by the national NHS website. #GrowingTogether https://www.merseycare.nhs.uk/health-and-wellbeing/young-people
---
Join in and have your voice heard
SHOUT is for young people aged 10 to 17 in Halton, Knowsley, St Helens and Warrington to get involved to improve mental health services. https://t.co/5ji4z8Pb64
---
Physical health
COVID-19 Vaccinations for children
Parents with children aged 12 to 15 are being reminded to complete the online consent form for them to receive their COVID-19 vaccinations at school (this will be in a link from school). For some children this may be their first dose for others it will be their second dose, find out more here www.merseycare.nhs.uk/imms
---
Blood Testing
Patients can access blood testing (phlebotomy) clinics across Liverpool. Three extra clinics have opened at Croxteth Family Health Clinic, Picton Medical and Children's Centre and Vauxhall Health Centre. Patient can book online https://t.co/2Ln4vkPhur
---
Health Visitors and School Nurses
Services for children and young people (0-25) in Knowsley and St Helens have now transferred to Wirral Community Health and Care NHS Foundation Trust. Families will see the same health visitors or school nurses locally and should not experience any disruption to services. To find out more, visit our website.
---
---
If you have any questions or comments, please email the Mersey Care communications team on communications@merseycare.nhs.uk